A spirit of independence helps an older people's project in Leeds keep going without council funding but it's a struggle to provide the activities that people need 
Stanningley and Swinnow Live at Home Scheme (SSLaHS) was formed in 1988 by St. Thomas' Church Group and became part of a neighbourhood network system that was unique in Leeds at the time. Each city ward had a neighbourhood network group helping older people to stay independent in their own homes for as long as possible, with groups providing activities, lunch clubs, advice and information, home-based services, help with filling in forms – whatever was needed. Lesley Pearson is the manager of SSLaHS.
Prior to 2008 Leeds City Council funded neighbourhood groups through service level agreements but then, Lesley says: "Across the city, commissioning was introduced. Groups put in bids for other networks and some just for their own … there were winners and losers. SSLaHS lost out to a larger organisation just down the road. Our members decided that they didn't want to put in their lot with the others down the road, they wanted to stay independent."
So SSLaHS kept going, without council funding, with support from Methodist Homes for the Aged.
Lesley says: "We have ideas about doing things, particularly around dementia but we need cash to do these things. We want to charge a small amount for our services, not to make a profit, only cover costs and times like in the winter when very few people come but we still have costs to cover." This year, trips were cancelled due to lack of take up because not everyone can pay for them. "With funding we could offer subsidised trips."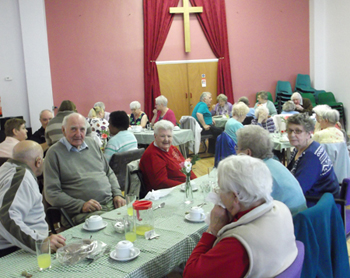 Despite operating on a shoestring SSLaHS is sticking to its principles of independent living for older people. "We had a grant earlier this year from the Winter Warmers to be able to buy thermal underwear for our people. If people are warmer on the inside it helps them when they go out … and keeps the heating bills down."
SSLaHS has two part-time staff, 40 volunteers, and one volunteer driver who also needs to earn a living until he retires. Lesley says: "Core funding would pay the rent for the office and the two members of staff … without us it's just not going to go on at all. There is only so much you can put onto volunteers. What I really want to do is to make sure that the service carries on for our older people. The government could be doing more – it just seems to be offloading the workload without putting in the funding to be able to do it.
"It's our 25th anniversary next year. We'd really like to be around to see it … My service users and my members keep me going. One thing that would really make a difference right now is money – we'd love to do a food bank, basic staples – elders wouldn't spend so much on those, they could spend it on heating."
What would Lesley say to other groups in similar situations? "We're still here – just because you lose your main source of funding overnight doesn't mean that you have to fold up and play dead. You can fight back. Try going for smaller bits of funding, keep your head above water until something better comes along. Just keep on out there and keep on fighting and make sure you do the best thing that you can for the people that you're serving."
Lesley Pearson was talking to Nazreen A Subhan from NCIA in May 2012 for our stories project.