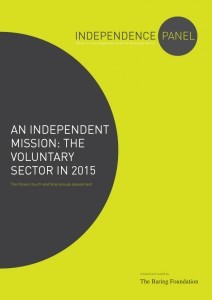 The Barings Panel on the Independence of the Voluntary Sector finished its work with the publication of its fourth report. Faithfully repeating the evidence it received – the state of the sector is bad and getting worse – the report broadly supports what NCIA has been saying for years. But sadly lacking is any kind of commentary on the politics and ideology that explain why these changes have been happening. Maybe they think it's all some kind of accident or misunderstanding?
What was also deeply shocking was the central recommendation that yet another 'commission' should be established and that NCVO – perhaps the principal culprit in NOT resisting the corruption of independent voluntary action – should play a leading role in this assembly of the great-and-the-good. NCVO promptly sealed the deal (and its influence) by announcing a £100,000 donation to the jamboree.
We were pretty upset about all this and so we wrote to Roger Singleton, the Panel's Chair. You can read our letter here. Disengagement is however, the order of the day and an anodyne letter which failed to address our criticisms was all we got back. I guess that's that. Creating the Panel was a good idea and it has produced useful material over the three years of its life. But at the end of the day it just couldn't shake off its establishment mind-set and connections. Shame.