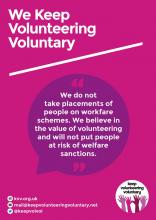 In the year since Keep Volunteering Voluntary launched, over 550 charities and voluntary groups have pledged to turn their backs on workfare. Together we are highlighting the value of volunteering and building a strong consensus that responsible voluntary organisations will not take part in workfare schemes and put people at risk of devastating welfare sanctions. Thanks to your support, Keep Volunteering Voluntary was recently named Guardian Charity Campaign of the Month!
But the new government was elected with a pledge to send 50,000 more unemployed 18-21 year olds on workfare placements to charities and voluntary groups. That's why it's more important than ever that we use our collective voice to Keep Volunteering Voluntary.
Next week, 1st-7th June, is Volunteers' Week. Here's a few ways you can help grow the campaign:
Tell the world your organisation is keeping volunteering voluntary using the #volunteersweek hashtag on Twitter
Order 

posters and window stickers

 to make your commitment to Keep Volunteering Voluntary even more visible

Request copies of KVV leaflets

 which include a simple how to guide to enable colleagues to detect and decline workfare placements or 

share the PDF

 by email
Spread the word through your networks – let's double the number of groups signing the pledge
Invite a speaker from Keep Volunteering Voluntary to your event, meeting or forum
Volunteer to help with the work of running Keep Volunteering Voluntary: come to our next meeting, Friday 5th June, 4pm in Stoke Newington, London (email andy@independentaction.net if you're interested)
If you can't make it to the meeting, but would like to get more involved with the campaign, please reply to let us know you'd like to help!
If you know organisations in or around Manchester who might like to get involved in or come along to our next event, please put them in touch with

andy@independentaction.net
And if you have a few more minutes, here's a few reminders of why all of this is so important:
However you show your support this Volunteers Week, many thanks for helping to Keep Volunteering Voluntary!