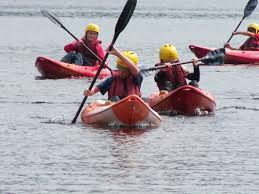 Water Adventure Centre (WAC) is a vibrant youth project located next to the Ashton Canal in Tameside. It works within the Tameside and Manchester local authorities and organises canoeing groups, festivals and events over the wider Greater Manchester area. Though its sessions are available for booking by groups of all ages, its main focus is play work and youth work (including detached youth work) with 8-19 year olds based on the use of canoes and other water activities. By building voluntary relationships often over many years, it aims to offer young people broad social, educational and recreational opportunities for developing confidence and self-esteem, awareness of self, others and the environment, and communication and collaborative working. To make its provision accessible to those most affected by disability, discrimination and disadvantage, grants are sought to make this free or very low cost.
Their story was recorded in April 2014 by Bernard Davies.
WAC's twelve-person management committee (its Executive) includes funder representatives, local authority officers, former WAC workers, group workers, councillors and allied workers. It also has a Young Volunteers/Young Advisers group of youth club members. It employs a full-time Director; 2 full-time youth/play workers; 9 part-time youth/play workers plus two who are seconded from New Charter Housing Trust Group and Tameside Youth Service; and a full-time administrator/buildings co-ordinator. A freelance maintenance/repair worker also works part-time for the project. In addition to a group of eight regular volunteers, up to 100 others may help run its special events.
Past and current funding
WAC's funding history over the past 3-4 years is described by the Director as 'hand to mouth. (A) mix of remnants of Local Authority funding, grants and a little bit of paid work'. Out of a total projected income for 2014-15 of just over £200,000, some £127,000 will, it is expected, come from public bodies – nearly 40% as grants from two local authorities. This represents 63% of the total planned income with the only other significant amount of 'secured' income being a Children in Need grant of nearly £30,000. In this financial year (2013 -14), the organisation has drawn on reserves of £22,000 to make up the shortfall. A deliberate plan to manage the bidding work has been drawn up for this year – which, counter-intuitively, may have the advantage of making it more attractive to trusts which can turn down bids because reserves are seen as too high.
With the Director estimating that its 'bid' success rate in recent years has fallen from nine out ten to  six out of ten, some recent experiences illustrate why she sees the organisation's financial situation as 'getting harder and harder' – and why it is trying to reduce it dependence on local authority funding.
In 2011Tameside put out to tender the funding originally from central government for additional work with young people on Friday and Saturday evenings. Even as local groups, with some support from the local Council of Voluntary Organisations (CVO), were pressing the local authority to change the contract to be more realistic, a national organisation with no previous track record with young people  in the borough bid for and was awarded the contract. Much later, with the work judged unsatisfactory, the local authority (without public consultation or information) reassigned the contract to the local 'independent' leisure services trust. However a new funding initiative from the Tameside Council and the local CVO has demonstrated both bravery and learning. This, combining a desire to do the best for young people and the need to save money, has produced a new consortium-based approach which, the WAC Director is hoping, will work equitably and creatively – and address need.
At the very end of the 2012-13 financial year, with two funding bids rejected, WAC was at serious risk of having to close – until, at the very last moment, it heard that two other bids had been successful.
With current tendering processes often carrying the risk being undercut by other local organisations, in 2013 WAC decided to price 5 bids to Manchester City Council for less than the work would cost and then make up the shortfall from other sources. This was a successful if stressful strategy.
Surviving independently
For WAC, 'surviving independently' has above all meant continuing to deliver its direct work with young people according to the values which have shaped it since it started 37 years ago. Some expressions of this are very operational – for example, with young people 'still (being) allowed to give us a hug!' Others however have more complex strategic implications.
A 'big fight' with one local authority was needed over a number of years to resist demands that WAC accredit the young people's activities. From WAC's point of view this carried some serious risks: of changing its relationship with the young people; producing winners and losers; turning the work into just another version of school. It would also have meant adopting forms of reporting and accountability which it saw as, for it, both inappropriate and unworkable.
While complying with the endless number-crunching, WAC has had to engage in a similar struggle over monitoring and reporting its work more generally, resisting pressures to adopt pseudo-scientific forms of 'measurement' and continuing to use case studies and to focus on 'distance travelled' and 'most significant change' as defined by young people themselves.  The project is more than happy to be transparent and accountable but would prefer the systems to be meaningful and hence intelligently inform future work.
Given the nature of its core activities, it has also had to adopt a more flexible approach to assessing risk in its work, recognising that the line between this and, for example, being adventurous – an integral feature of its programmes – is at best ambiguous.
On all these and other issues WAC has seen the stances it has taken up as vital to preserving its integrity as an organisation.
It also regards this independence as vital to its ability to offer 'outcomes' which go well beyond the paper ones sought by funders – and beyond ones that can be achieved by organisations which 'parachute in'. Having now operated in the same areas for over three decades, it is community-based in the sense that, in the words of the Director, 'it is part of the everyday fabric of people's lives' – an organisation to which they can and do come, not just to canoe, but for a much wider range of personal support and advice.